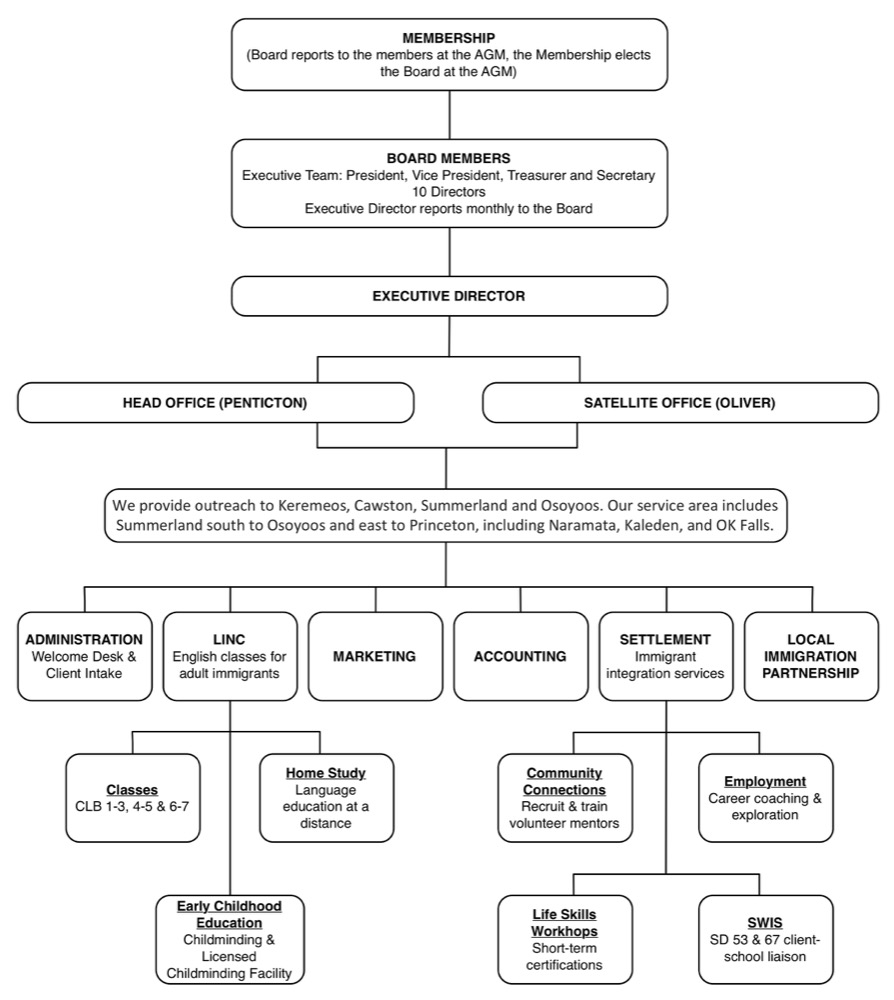 The society is incorporated under the Province of BC's Society Act as a not-for-profit organisation and is a registered charitable organisation under the Income Tax Act. Our legal name is Penticton & District Multicultural Society and we are doing business as South Okanagan Immigrant & Community Services (PDMS/SOICS).
Established in 1976, PDMS operated as a diversity awareness society involved in multicultural events. In 2007 the organisation expanded and changed its name to SOICS as a reflection of the new services being offered.
SOICS is a one-stop shop that provides a range of free services to all immigrants, temporary foreign workers, post secondary international students, and refugees through education, advocacy and projects, which assist in their integration. We have been managing community projects, building partnerships and achieving integration and multicultural outcomes in the South Okanagan-Similkameen region for over 40 years.
Our service area includes Summerland south to Osoyoos and east to Princeton, including Naramata, Kaleden, and OK Falls. With a head office in Penticton and a satellite office in Oliver, we meet the clients' direct needs through language training, childminding, skills development workshops, community connections, employment, and settlement services. Indirectly, we serve the broader community by enhancing its capacity to increase the pace of social and economic integration for newcomers so that they are contributing to the community as civically minded members. We provide outreach programs in Osoyoos, Summerland, Cawston and Keremeos.
Our multi-lingual and culturally diverse team members work together with clients to help them get settled, find careers and learn all they need to know about starting their new lives in Canada.
With a growing client base and increased demand for services, we expanded our head office space by constructing a new building on Ellis Street in Penticton. In 2014 we experienced a growth spurt resulting in the Board's decision to construct our own larger building. In the Okanagan, immigrants have played a vital role in industries such as agriculture, health services, and tourism. This stage of growth is aimed to enhance program flexibility and capacity for clients, staff and volunteers as we work together to help newcomers realize the full potential of their lives in Canada.
---
All of SOICS' services are free for eligible immigrants. For more information on becoming a SOICS client, please visit Getting Started at SOICS. To make an appointment, please call or visit our office.